From the moment the music starts…
Your body begins to relax.
The ultimate biohack for the meditation experience.
From the moment the music starts...Your body begins to relax.
The ultimate meditation experience.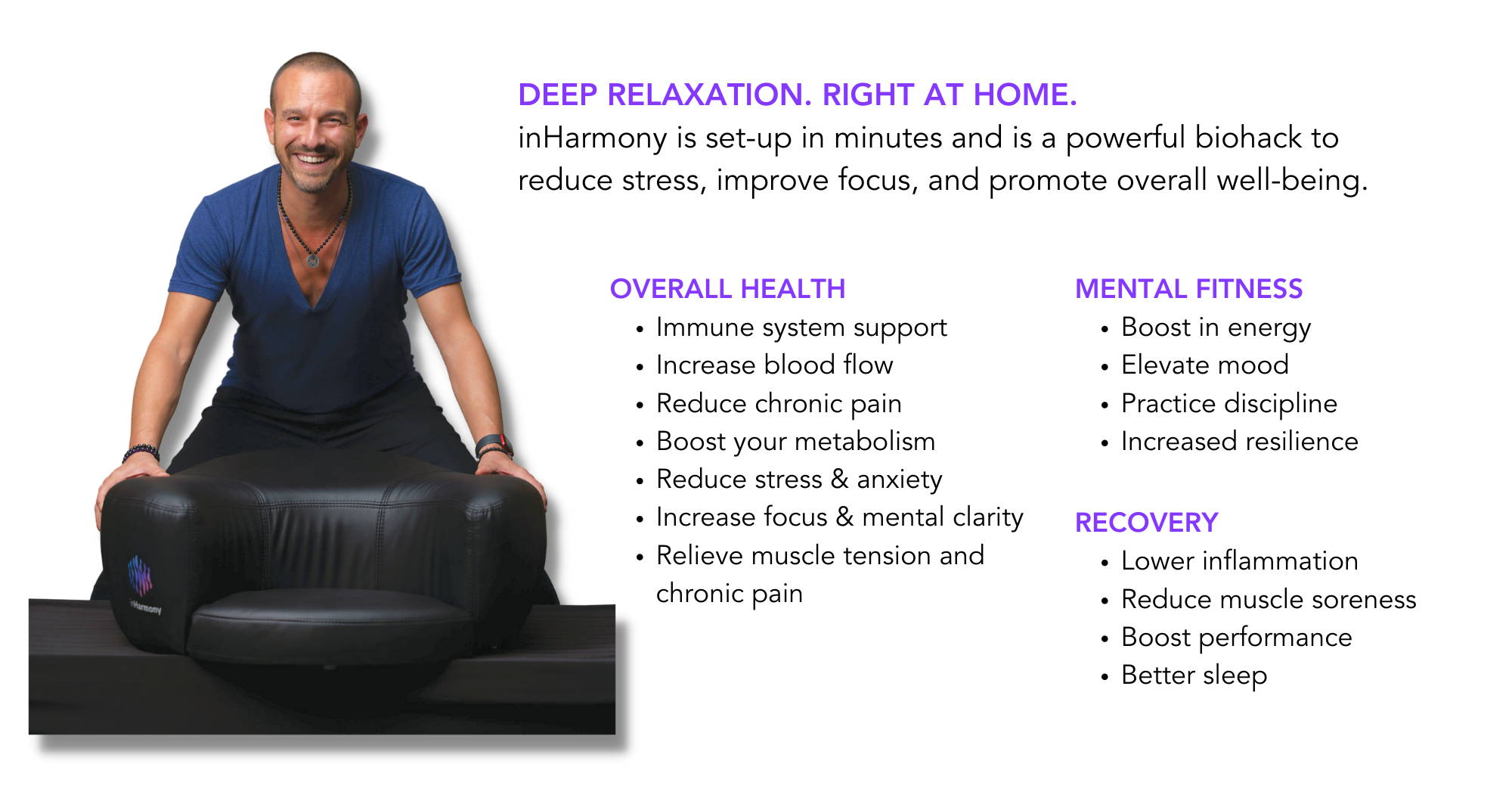 Biohacking Meditation for Overall Health
Bring inHarmony's relaxing vibraoacoustic cushions and lounges into your daily wellness routine. Experience the benefits of tech-assisted meditation technology in your home and office for easy access to use everyday.
Soft, Contoured,

Ultra-Comfortable

Design
Take control of your well-being with inHarmony's premier experience. It's hands down the most powerful on the market. Our sound lounge empowers you to instantly soothe your busy mind and relax your entire body with each vibration. Optimize your health benefits today.
inHarmony Meditation Cushion
Relieve Stress and Anxiety
For rejuvenation and peaceful comfort, position your body onto the meditation cushion with the proven effects of inHarmony's patented tech-assisted meditation technology. This space conscious and portable cushion gives you a highly effective vibroacustic treatment, destresses your mind, and improves meditation. It's comfortable, cost-effective and fun-sized!
Add Sound & Vibration Therapy to your Massage Table
Enhance your practice by augmenting a physical experience with Vibration Therapy. Chiropractic, bodywork, massage therapy, kinesiology, acupressure, acupuncture, hypnosis, NLP, holistic healing and addiction recovery can all get a powerful upgrade with our tech.
Your health and wellness are important to you. You want to feel better so you can do more and live fully. We live to help others experience the health transformations we have by bringing our technology to people everywhere. The magic of our patented system of tech-assisted sound and vibration therapies will help you to quickly and comfortably reach a deeply relaxed state.
Learn More about the 40 years of research behind vibroacoustic therapy.